Dutch chatelaine-style pincushion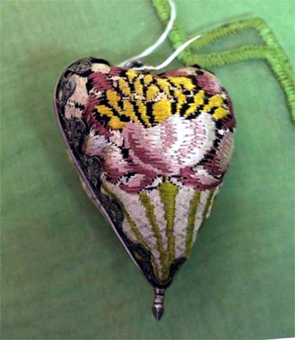 Dutch chatelaine pincushion with embroidered 18th century Silk fabric (the white thread at the top is part of its identification tag)
There's a story to tell about this beautiful pincushion. One of our members purchased it many years ago from Nerylla Taunton. If you haven't heard of Nerylla, she wrote one of the definitive books called Antique Needlework Tools and Embroideries. It's still in print, and well worth a look both for its beautiful pictures and the wealth of historical research found in its pages. It's one of those books that we all love to read, and is also used as a major reference book by dealers and researchers world-wide. If you can't get your hands on your own copy, it might be in a library near you.
So, what's the story here? Our member had a close friendship with Nerylla, and is also a well-known embroiderer and author in Australia. When she fell in love with the pincushion, she decided to restore the cushion part (fallen to bits, I think, though I'll have to check if it was even there - I'll let you know).
This pincushion is usually called a Chatelaine pincushion. There's a silver framework around the edge of the heart shape, dark in the photo because it's hard to polish without touching the silk covering on the cushion. Nerylla dated it to the end of the 18th century. The silversmiths liked to create patterns on the silver, sometimes simple repetitive marks, sometimes with scenes or figures on them.
Respecting the age and rarity of the pincushion, our member decided to cover over the damaged cover with a fragment of 18th-century embroidered silk she had in her embroidery stash. Yes, she's one of the special people who find treasures like this and keeps them safe. The embroidered silk was exactly the right age and style to restore the pincushion, and she did the work herself.
There's a silver ring at the top of the heart, to hang it from a chatelaine or from a ribbon or braid hanging from the waist. We all fell in love with this piece, with its elegant heart shape and the tiny pointed finial on the bottom.
There are so many beautiful tools to be seen, and not always antique. Moving into a related topic of Quaker pinballs for a DIY moment -- In the last few years an American embroidery teacher has commissioned new silver rings to place around reproduction pinballs in her embroidery classes (kit here). If you can't get a piece of history like our member's original one, you can make your own. Even if you're not able to go to a class , there are pinball patterns in some specialist magazines and a few cross-stitch kits. Many were knitted in fine silks or cottons. Usually made in two parts, a separate front and back, they were joined together and stuffed firmly. Then the centre margin was wrapped using silk ribbon or a fine woven braid instead of a silver framework, extending it to form a loop at the top centre for hanging.
Knitted pinball patterns can be seen in this flip book or in their pictures here. You can download an article about the Quaker medallion patterns used for the pinballs in the book as a pdf too. (Tip: Look for the TOKENS OF LOVE window, click to rotate it, then click Download.)
If you're making a knitted one, click here for information on the fine knitting needles.
By the way, there's no affiliations in these links. They're here because I think they're useful. Hope you enjoy them!
---
Posted by needleworktoolcollectors at 11:40 AM EADT
Updated: Tuesday, 11 February 2014 5:02 PM EADT